This page is all about the dog services…
I've been a dog lover since childhood and a dog owner for more than 30 years.
When I was young, my brother kept German Shepherds. Jedda and Prince were bigger than me when I used to take them walking, on and off leash. (Click on the + to read more)
My first dog after leaving home was a Cavalier King Charles Spaniel crossbreed. Lady was always cheerful and a big wriggler. Sadly, she was killed by a car while I was interstate. She was a fraction too quick for my pet sitter and she ran out the gate just as a car flew by…
For a memorable few months, I had 11 dogs and two cats! Ten of the canines were puppies. Jessie – a beautiful dog we took from our neighbours when they moved to a new home where dogs weren't allowed – arrived at my home obviously pregnant. She was too far advanced so I resigned myself to caring for her and finding good homes for the puppies.
From the day those puppies were born, I gave them supplementary feeds three times a day, and Jessie was a terrific mother. The vet was astonished at the pups', and Jessie's, excellent condition. He told me that most large litters were very hard for a mother to adequately feed, even if she was being well fed herself.
By the time they were 12 weeks old, fully weaned, well-socialised, and vaccinated, I'd found wonderful homes for them all – except Greedy, whom I couldn't part with. He and Jessie were inseparable.
And over the years since then, my husband and I have welcomed to our family Lucky, Sampson, Shaggy, and Buddy. The dogs have all been rescue dogs and all had interesting back stories that made their turnarounds from dogs with "issues", to happy and amazing fur-family members.
Buddy was the smallest dog we've ever had, at 1.8 kgs (papillon x chihuahua), and Shaggy was our giant (Irish Wolfhound x). Our only purebred was Sampson, a retired Border Collie.
They are all gone now, but I miss them and miss the company of canines.
So what I offer you as your professional dog "activity director", is my experience with dogs of all shapes and sizes, and my genuine love of being with them.
In addition to many years of dog ownership and handling, I've completed some formal training too – Dog Care & Training Essentials – endorsed by the RSPCA (Qld).

Furry Friends Fitness also carries public liability insurance.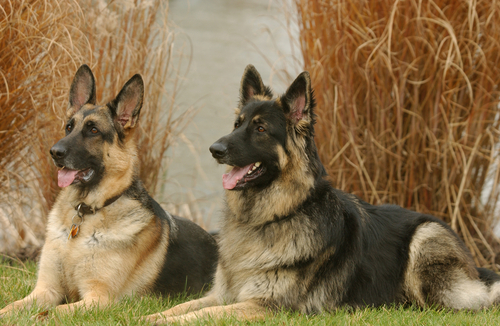 Pensioners & Seniors receive a 10% discount.
Please let Sue know when you contact her to book your first session – proof will be required (e.g., Sue will sight your your senior's card). Your card details will not be retained.
How the Activity Program Works
My one hour sessions are held in the morning. Depending on how many are booked in (1, 2, or 3 dogs), I'll arrive at your home between 8:30 and 9 am to pick up your pooch. I'll then drive to wherever I've decided to hold that morning's activity. It could be an off leash beach, or a dog park, or somewhere else entirely. Once I arrive, I take all the dogs out for a walk and play. If they're allowed, they might have a bit of a swim at the beach, or we might just do a long walk with some ball play or tug-o-war, or some other game. We have a fun hour, then I return to the car, pop them all in, and take them back to you. Chances are, your dog will actually be out for between 90 mins and two hours because of driving time - but I ensure they have a full hour of activity.
The 30 minute sessions are held in the afternoon, and their start times will vary depending on whether it's summer or winter. Summer will be later to avoid the worst of the heat, and winter will be earlier to ensure we have plenty of daylight. Other than that, the program works the same way - I collect your lovely fur friend, head out somewhere fun for a half hour of frolicking, walking, and play, then return your dog to your home. It's likely the dog will be away for an hour or so, allowing for travel time to and from.
Activity Locations
I operate predominantly in the Boambee East, Toormina, and Sawtell area. Because I live there, that's the most efficient area to service because of travel times and costs.
I'm happy to work further afield, but add a small "taxi service" fee of $4 if I need to travel to Boambee Valley, South Boambee Valley, or North Boambee Valley.
If you live further afield but still like the idea of what's on offer, please contact me – we might be able to arrange something that works for you.
Some dog walking services charge by the kilometre for pick-up and drop-off, on top of their walking fees. I've tried to keep my rates simple and fair.
How to Book
Use the button to the right to go to the booking and payment page. Each session option is explained fully. Once you've got an idea of what you're interested in, there's a button to click and a simple booking form to fill in and send to me.
Based on your preferences, we'll chat and set up a first session. I'll provide payment details (credit card or direct deposit), and once your funds clear, we're good to go.
The first get together
For first time doggy clients, I always do a half hour solo walk – I don't charge the solo rate though – you only pay what you would if it was a small group session.
When I meet your dog for the first time, I'll spend a few minutes with it at your home to generate a sense of trust. Only when I think the dog is comfortable will I invite it to hop into the car – and off we go! The half hour begins once we arrive at the park or beach.
While we're out, I'll observe how your furry friend reacts when we pass by other walkers and dogs. This helps me gauge how to handle future sessions. On this occasion, I probably won't let the dog off the lead – this is just in case something happens to startle your dog before we know each other better.
On future walks, I can gradually introduce off-leash time. Don't worry – I will make sure your dog has plenty of fun even in the early days when a lead is essential.
When we get back home, I'll have a chat to you about how things went. Of course, if you've gone to work, I will ensure the dog is safely back in the yard and will send you a text or e-mail to let you know about our time together.
It will then be up to you if you want to book again.
How dogs are transported
I have a station wagon, equipped with dog friendly restraints in the back, and also one section in the back seat (just in case I have dogs of various sizes – I couldn't fit 3 large dogs in the back – but they can certainly be comfortable if I utilise a special section in the back seat for one of them).
The vehicle has good climate control, so while we're travelling, your pooch will be comfortably cool or warm as needed.
Dogs don't have to jump in or out – I have a ramp. This also saves my back because I don't have to lift a dog. Some dogs don't like being picked up, so the ramp is better for them.
The car is swept out and sanitised with Febreze anti-bacterial spray between trips. Once a week, it's fully vacuumed out too.
Dog handling techniques
I use the LIMA approach when working with dogs. It's an encouraging and gentle approach, based on rewarding dogs when they display calm and cooperative behaviours (with me and with other dogs and people we might meet along the way).
LIMA means "Least Intrusive, Minimally Aversive" dog handling. Positive experiences are provided and potentially negative situations are avoided.
I use small, good quality food rewards to reinforce good behaviour. My tone of voice will communicate a lot to a dog, and I also have a good understanding of a dog's body language, so recognise when a dog needs space, for example, or is starting to feel stressed.
I won't "train" your dog for you, but I will use consistent commands and behaviours so that whenever your dog is with me, it will know what to expect.
Why I limit group sessions to three dogs as the maximum
There are several reasons for this.
I want to ensure that each dog receives adequate attention from me – it's the quality of the experience for the dogs, not the quantity of dogs.
The wagon will comfortably transport three.
I am strong, but realise that dogs can also be strong, so for my safety and theirs, I prefer to take only three at a time.
Keeping the group small means that all dogs can have fun while playing, especially if off-leash. I don't end up with one or two larger, faster dogs, stopping smaller ones from getting the ball, for example.
Homes with several dogs
If you have more than one dog, I'm happy to reduce the price for a second or third dog. Because I only have to do one drop-off/pick-up, it reduces my time and fuel expenses. I'm happy to pass the savings (and more!) on to you.